Kuala Lumpur is the capital of Malaysia. It is the sparkling jewel of this country and a heady mix of nationalities and cultures. Here, Malaysia's rich past had blended into a futuristic metropolis. Kuala Lumpur has Malaysia's fastest growing economy and with a frantic pace of life and an ultra-modern skyline, it allows you to experience the 21st century Malaysia.
This dynamic city is more than just a modern city, it had a colorful and rich history. This can easily be seen in many of its colonial era buildings found among the towering skyscrapers. There are also beautiful hillside temples that offer visitors a tranquil escape from the modern city life chaos.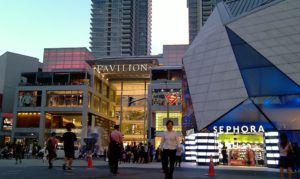 Bukit Bintang
Bukit Bintang is the shopping heart of Kuala Lumpur. It offers its visitors a colorful and exciting adventure around every corner. The streets here are bursting with several shopping opportunities. Bukit Bintang has more than enough to satisfy a wide variety of taste from affordable roadside bargains to the most extravagant indulgence.
Jalan Pataling Street
The dazzling sounds and colors of this street in Chinatown attract both locals and tourists alike. It is a bargain hunter's paradise with a wide variety of goods on display. There are also a vast array of drinks and foods on offer, with rich aromas and flavors that are tempting to resist. The night markets have a friendly and laid back atmosphere where you can relax with a cold beer after shopping all day.
Petronas Twin Towers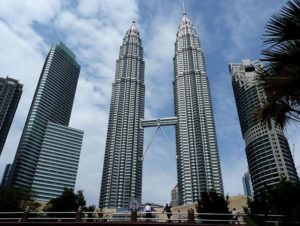 The Petronas Twin Towers is situated in the center of Kuala Lumpur. It occupies about a hundred acres of real estate and rises dramatically to a height of more than 450 meters. It not only houses parks, science and cultural centers but it provides several leisure and recreation activities for everyone.
Aquaria
The Aquaria is within walking distance from the Petronas Twin Towers. It is an aquarium casing over 5,000 different exhibits of aquatic and land-bound creatures. There is a ton to see and do here, as well as lots of marine wildlife to explore and see. It is one of the better aquariums in Asia.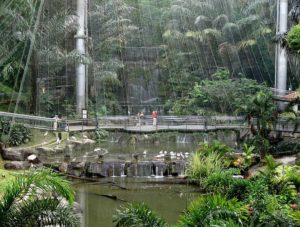 Kuala Lumpur Bird Park
It is the world's largest free-flight walk-in aviary set in a sprawling valley. This renowned echo tourism park is home to more than 3000 birds. Kuala Lumpur Bird Park is an amazing spot if you are a fan of nature and amazing birds. Ensure you take some sunscreen and hats to protect yourself from the sun. You will definitely be amazed by the many little birds you will see here.
Kuala Lumpur is a city rich in culture and history with an endless variety offering visitors modern luxury and flavors of the people.