Located in Central America close to Guatemala, Belize is a tropical playground that is rich in cultural history. On the mainland, you will find ancient Maya temples surrounded by dense jungles. Some acquaintances of mine took a trip here recently and thanks to their input I put together some must-see attractions in Belize.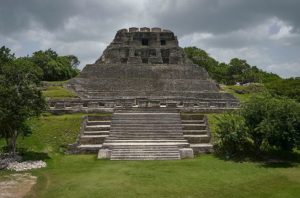 Xunantunich
One of the best sights to visit is Xunantunich. The preserved detail here is unbelievable, and it gives you a real sense of discovery. You will meet friendly iguanas as you climb the 11,000 structure for an amazing view.
Caves Branch Archaeological Reserve
If climbing temples isn't for you, there's a much easier and more fun way to get your culture fix. River tubing through these amazing caves is one of the best things you can do on your trip. You will be taken on a full educational tour explaining how the fascinating formations grow and how the Maya people used to use these caves thousands of years ago.
Tobacco Caye
Head down to Dangriga where you can take a day trip to Tobacco Caye. This beautiful island is the perfect place to relax in paradise and there are plenty of activities to do as well. Enjoy a snorkeling tour of the coral reefs where a local guide will teach you all about the complex ecosystems and fascinating wildlife. See the wonderful work they are doing to maintain and restore the reefs and enjoy a refreshing swim in the Caribbean Sea. Take out a kayak and push yourself on a challenging course around the island. The views are second to none and it's really rewarding to get out there and be active in the sunshine.
Mayflower Bocawina National Park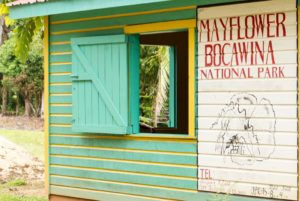 If you are a thrill-seeker, we recommend checking out the stunning Mayflower Bocawina National Park. Take on an intense hour-long hike through the jungle and take a break in a natural pool at the top of a huge waterfall. There's only one way to go about getting down and that's gearing up and rappel down the falls themselves. It's pretty tough but for adventurous travelers, it's an experience you definitely won't want to miss. The park is also home to Belize's longest zip-line and their zip-line trails offer amazing views over the park.
San Pedro
If island life is what you are really after, then you have to check out San Pedro. It's not technically an island since it's still attached to the mainland so you can get there by driving or there's a ferryboat which is a lot quicker. But by far the best way to get there has to be by taking a cheap scenic flight from Dangriga. Everyone gets around San Pedro on golf buggies. The shores are lined with beautiful beaches and there's an abundance of things to do. With many companies offering day trips, scuba diving, and snorkeling island hopping can easily become an everyday occurrence. It's definitely worth staying there for at least a few days.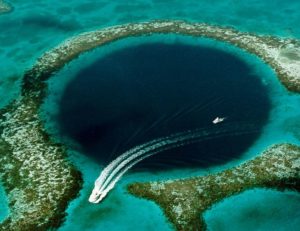 Great Blue Hole
This huge sinkhole is 407 foot deep. Snorkelers can observe colorful fish from the reef's edge and divers can go down to meet the Sharks and explore beautiful cave formations. There's a load of other reefs nearby as well, so on a trip you can expect to see a ton of jaw-dropping marine life.
Half Moon Caye
If diving isn't for you, then hiring a private catamaran might be the best option. Explore Half Moon Caye, a beautiful island that's bursting with nature. Take a stroll and discover the incredible wildlife on the trail around the island.
Caye Caulker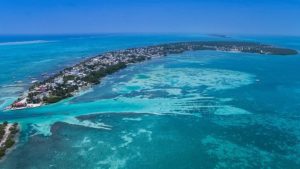 Despite being split in half by a hurricane in 1961, this beautiful island still stands strong today. It's the perfect place to stop for lunch or to enjoy a refreshing drink in the sunshine. With bikes to rent, volleyball courts, and the diving board into the ocean, there's plenty to keep you entertained.
Secret Beach
Back in San Pedro go on an adventure to the secret beach. While it's only really secret by name, it takes about 40 minutes to get here on golf buggies from the main town which makes for a fun trip. Here you can grab yourself a freshly cooked coconut and float on the waves as you watch the sun go down in paradise. It's the perfect way to end the day.